'Rabbit Hutch' Homes Should be Consigned to the Past, say Architects
Barratt and Persimmon are singled out as worst offenders in survey of new homes on 100 developments
More than half of family homes under construction by private house builders in the UK are too small, architects have said.
The typical new three-bedroom home is missing space equivalent to a bathroom while many are missing as much as a double bedroom when judged against minimum.
Homes outside London are the worst affected by what the Royal Institute of British Architects (Riba) attacked as "rabbit hutch" homes after it measured a sample of new homes on 100 developments.
Riba singled out two of the leading house builders as the worst offenders. From a sample of new three-bedroom homes surveyed, it found Barratt homes were on average 6.7sq metres smaller than minimum space standards and Persimmon homes were on average 10.8sq m too small – about the size of a double bedroom.
"Tiny rabbit-hutch new-builds should be a thing of the past," said Riba president Jane Duncan. "But, sadly, our research shows that, for many people, a new home means living somewhere that's been built well below the minimum space standard needed for a comfortable home. The government must take action to ensure a fairer minimum space standard is applied to all new homes across the country."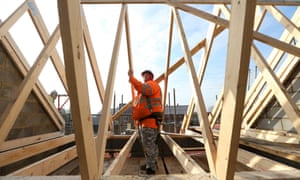 Riba warned that the squeeze on space was "depriving thousands of families of the space needed for them to live comfortably and cohesively, to eat and socialise together, to accommodate a growing family or ageing relatives, or even to store possessions including everyday necessities such as a vacuum cleaner."
It highlighted Persimmon's Staynor Hall development in Selby, North Yorkshire, where it found the "Hanbury" three-bedroom two-storey house has a floor area of 70.7sq m when the government standard says a three-bedroom house for a family of five should be at least 93sq m.
The space standards are optional for local councils to adopt. House builders oppose them, claiming they will reduce customer choice.
"Overwhelmingly the people that matter, buyers of new-build homes, are happy with their houses and how they are designed," said Stewart Baseley, executive chairman of the Home Builders Federation which represents firms including Barratt and Persimmon.
"Imposing space standards and so restricting what builders can build takes away choice from home buyers. This would not only prevent more people from buying their own home but also exacerbate the acute shortage of housing that we have experienced over several decades."
A Barratt spokesman said: "We make the best use of space and our customer recommendation score is over 90%, the only major national house builder to achieve this.''
In London, where minimum space standards have been in force since 2011, new homes are significantly bigger. The average three-bedroom house in London is now 25sq m bigger than in Yorkshire, the area with the smallest new homes, according to the survey. New three-bedroom homes in the West Midlands are also more than 7sq m smaller than the government's minimum.
"On average, every new three-bed home in Leeds, York or Scarborough is missing out on the equivalent of a double bedroom and a family living room," the report states.
Riba has identified another squeeze on housing space: the conversion of office buildings to homes allowed as a result of a 2013 relaxation in planning laws. Last year, 20,000 such homes were built, but the lack of regulations means they can be among the smallest available.
"Across the country, two-person 'apartments' of less than 14sq m (the size of a typical bedroom) are being delivered," Riba's report states. "Under the national space standard, the minimum floor area for any new home is 37sq m – almost three times the size."