The Charity that Houses Homeless People in Shipping Containers
The concept sounds ghastly until you know the difference it can make, says Brighton Housing Trust's chief executive
When it was suggested that we house homeless people in steel shipping containers in a scrap metal yard, I thought it was either April Fool's Day or we had lost all concept of decency.
But then I was shown photographs of the amazing work being undertaken by TempoHousing in the Netherlands, and realised what was possible.
Brighton Housing Trust, working with QED, is developing 36 studio flats within two blocks, using adapted shipping containers at a town centre site. The units were designed and constructed in Holland specifically for a social housing project in Amsterdam that failed to materialise due to funding difficulties. The units were available at a discounted rate which adds to the financial viability of this proposal.
The first of the containers arrived before dawn on Monday, the 36th comes on Friday. Over the next four weeks a green roof, stairwells and external walkways will be constructed, and final touches made to the internal decor before the first residents move in on 25 November.
Before embarking on this venture, we spoke with our homeless clients about the concept. They loved it. In particular, they loved the fact residents would have their own kitchen, bathroom and front door. They felt that being self-contained is far more desirable than a room in a shared house even though the floor space, at 26 sq m, is roughly the same as they would have if they were sharing.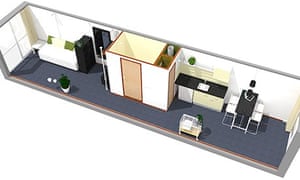 Shipping containers have rarely been used as temporary living accommodation in the United Kingdom but there are a number of examples in continental Europe. The most notable project is in Keetwonen in Amsterdam, a development by TempoHousing of 1,000 containers using exactly the same internal design layout as the ones we are proposing to use. It was completed in 2006 and is still in use today.
I was sceptical at the outset, but quickly won over. The toilet and shower unit is exactly the same as my daughter had in her student accommodation and she much preferred it to having to share bathrooms and toilets with other students. Who wouldn't?
What really excites me about this opportunity is that land that might otherwise lie idle for five years will be brought back into life and used to provide much-needed temporary accommodation for 36 men and women in Brighton and Hove.
At the point when the site is to be redeveloped, the accommodation units can be transferred to other locations, be they in Brighton and Hove or elsewhere. This appears to me to be very attractive from a sustainability perspective. What could be more sustainable than reusing an existing shipping container, converted in a bespoke factory in Europe, into a modular transportable and reusable temporary housing unit?