Planning a trip to St-Tropez and wondering where to stay? Well, you're in the right place! St-Tropez is known for its luxurious and beautiful accommodations, offering something for everyone. From chic hotels to charming villas, this glamorous French Riviera town has it all. So, let's dive right in and discover what makes St-Tropez a good place to stay!
When it comes to finding the perfect place to stay in St-Tropez, you want to ensure that you have easy access to all the attractions and activities that this vibrant town has to offer. With its stunning Mediterranean beaches, vibrant nightlife, and world-class restaurants, St-Tropez has something to suit every taste and interest. Whether you're a beach lover, a partygoer, or a culture enthusiast, St-Tropez has got you covered!
One of the best things about staying in St-Tropez is the sense of luxury and exclusivity that comes with it. From the glamorous yachts in the marina to the high-end boutiques along the cobblestone streets, St-Tropez exudes elegance and sophistication. So, if you're looking to indulge in a luxurious getaway with a touch of French charm, St-Tropez is the place for you!
So, whether you're seeking a beachfront paradise, a lively city center, or a peaceful retreat in the countryside, St-Tropez offers a range of options for your perfect stay. Join us as we explore the best places to stay in St-Tropez and discover the hidden gems that this enchanting town has in store for you!
Thinking of visiting St-Tropez and wondering where to stay? Well, you're in luck! St-Tropez offers a range of fabulous accommodations to suit every traveler's needs. Whether you're looking for a luxurious beachfront resort, a charming boutique hotel, or a cozy bed and breakfast, St-Tropez has it all. From the glamorous vibes of the iconic Hotel Byblos to the tranquil and picturesque Villa Marie, you'll find the perfect place to stay in St-Tropez that suits your preferences and budget. So, start planning your dream getaway and make unforgettable memories in this stunning French Riviera destination!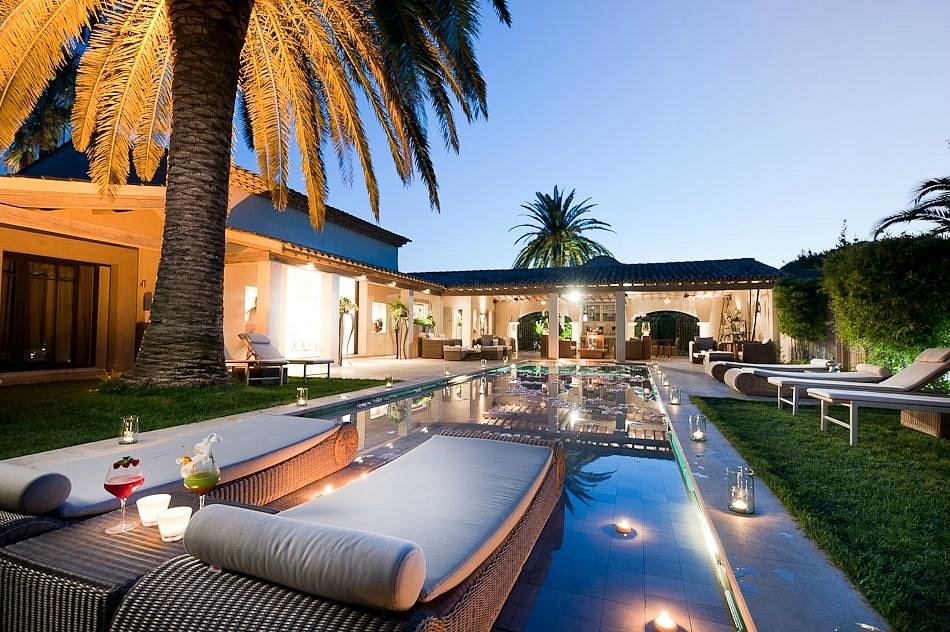 What is a Good Place to Stay in St-Tropez?
St-Tropez is renowned for its glamorous reputation as one of the most exclusive and luxurious destinations in the world. When planning a trip to this iconic French Riviera town, choosing the right place to stay is essential to make the most of your experience. From lavish hotels to charming boutique accommodations, St-Tropez offers a range of options that cater to every traveler's needs. In this article, we will explore seven different types of accommodations in St-Tropez, highlighting their unique features and benefits, so you can make an informed choice for your stay.
1. Luxury Hotels: Exquisite Comfort and Opulent Surroundings
If you're looking for the ultimate in luxury and indulgence, St-Tropez is home to several renowned luxury hotels. These establishments offer impeccable service, stunning surroundings, and a wide array of amenities. From elegant spas to Michelin-starred restaurants, you can expect nothing but the best at these top-tier hotels. Whether you choose a grand seaside property or a secluded retreat nestled in the heart of St-Tropez, your stay at a luxury hotel will be a truly memorable experience.
2. Boutique Hotels: Charming and Personalized Hospitality
For those seeking a more intimate and personalized experience, boutique hotels in St-Tropez provide a unique charm and character. These smaller-scale accommodations offer a cozy and welcoming atmosphere, often with individually decorated rooms and personalized service. With their attention to detail and emphasis on creating a memorable stay, boutique hotels provide a sense of exclusivity that complements the allure of St-Tropez. From restored historic buildings to contemporary design gems, these hotels offer a refreshing alternative to larger establishments.
3. Beachfront Resorts: Bask in the Sun and Enjoy Spectacular Views
If you're drawn to the sparkling Mediterranean Sea and the allure of pristine sandy beaches, a beachfront resort in St-Tropez might be the perfect choice. These resorts offer direct access to the beach, allowing you to unwind and soak up the sun just steps away from your room. With a variety of leisure facilities, such as beach clubs, pools, and water sports centers, you'll have plenty of options to enjoy the natural beauty of St-Tropez. Indulge in a seaside getaway and revel in the breathtaking views that this iconic destination has to offer.
4. Villa Rentals: Privacy, Space, and the Comforts of Home
For those seeking a home away from home experience, St-Tropez offers an array of luxurious villa rentals. These private residences provide ample space, privacy, and the comforts of a fully equipped home. Whether you're traveling with family or a group of friends, villa rentals offer an excellent option for those who value independence and flexibility. From exquisite villas with private pools to charming Provençal farmhouses in the countryside, these rentals allow you to immerse yourself in the local lifestyle while enjoying the luxurious amenities of a high-end accommodation.
5. Château Hotels: Old-World Elegance and Timeless Beauty
Located in the picturesque countryside surrounding St-Tropez, château hotels offer a blend of history, elegance, and tranquility. These historic properties have been lovingly restored and transformed into enchanting hotels, providing guests with a unique glimpse into the region's rich past. With beautifully landscaped gardens, vineyards, and magnificent architecture, château hotels exude old-world charm and offer a peaceful retreat away from the hustle and bustle of St-Tropez. Immerse yourself in the beauty of the French countryside while enjoying the luxury and refinement of a château hotel.
6. Airbnb: Local Flair and Authentic Experiences
For a more immersive and authentic stay in St-Tropez, consider booking an Airbnb. These privately owned accommodations allow you to live like a local, with options ranging from cozy apartments in the heart of the town to charming villas in the surrounding areas. Staying in an Airbnb gives you the opportunity to connect with the local culture and discover hidden gems that may not be easily accessible to tourists. With a wide range of options and price points, Airbnb offers a flexible and affordable choice for your stay in St-Tropez.
7. Yacht or Boat Rentals: Unforgettable Luxury On the Water
For a truly unique and luxurious experience, St-Tropez offers the opportunity to stay onboard a yacht or boat. With its glamorous maritime legacy, the town is a popular destination for yacht owners and charter companies alike. By renting a yacht or boat, you can combine the comfort of a high-end accommodation with the freedom to explore the stunning coastline and nearby islands at your leisure. Wake up to breathtaking views of the sea, enjoy world-class amenities onboard, and indulge in an unforgettable experience that encapsulates the essence of St-Tropez.
Exploring St-Tropez: Beyond Accommodations
Now that we have explored the various types of accommodations in St-Tropez, let's delve into the other aspects of this enchanting destination. From sightseeing to dining and shopping, St-Tropez offers a multitude of experiences that will captivate and delight you.
1. Sightseeing: Uncover the Rich History and Cultural Heritage
St-Tropez is steeped in history and boasts a rich cultural heritage that is well worth exploring. Begin your journey by visiting the iconic La Citadelle, a 17th-century fortress that offers panoramic views of the town and the bay. Discover the fascinating history of St-Tropez at the Musée de l'Annonciade, a museum housed in a former chapel that showcases works by renowned artists. Wander through the cobbled streets of the Old Town, admiring the charming pastel-colored houses and lively squares. Don't miss the chance to visit the lively Place des Lices, where a famous open-air market takes place every Tuesday and Saturday.
1.1. Musee de l'Annonciade: A Treasure Trove of Art
The Musée de l'Annonciade is a must-visit for art enthusiasts. Located in a former chapel overlooking the port, this museum houses an impressive collection of modern art from the late 19th and early 20th centuries. The museum's collection includes works by artists such as Paul Signac, Pierre Bonnard, and Maurice Denis, who were drawn to St-Tropez's captivating landscapes and vibrant atmosphere. As you explore the galleries, you'll be immersed in the artistic movements that shaped the town's cultural identity.
1.2. La Citadelle: A Fortress with Panoramic Views
Perched on top of a hill overlooking St-Tropez, La Citadelle is a well-preserved fortress that offers breathtaking panoramic views of the town and the Mediterranean Sea. Built in the 17th century by Louis XIV, the fortress served as a strategic defense post. Today, it houses a maritime museum that delves into St-Tropez's maritime history and offers insight into the town's colorful past. Take a leisurely stroll along the fortress walls and revel in the stunning vistas that stretch as far as the eye can see.
1.3. The Old Town: A Charming Journey Back in Time
As you wander through the cobbled streets of the Old Town, you'll feel like you've stepped back in time. The narrow streets are lined with pastel-colored houses adorned with vibrant bougainvillea, creating a picturesque setting that has long inspired artists and writers. Explore the charming squares, such as Place de l'Ormeau and Place des Lices, and soak up the lively atmosphere of local cafés and boutiques. Be sure to visit the Église de Saint-Tropez, a beautiful church that dates back to the 18th century and houses a collection of religious artifacts.
2. Dining: Indulge in Culinary Delights
St-Tropez is a haven for food lovers, with its plethora of gourmet restaurants and vibrant dining scene. Sample the freshest seafood, indulge in Provençal specialties, and savor the finest local wines. From Michelin-starred establishments to casual beachfront cafés, you'll find a culinary experience to suit every taste. Don't forget to try the iconic Tarte Tropézienne, a heavenly dessert made with a brioche base, cream filling, and sprinkled with sugar crystals.
2.1. L'Opera: A Gastronomic Delight
For an unforgettable dining experience, head to L'Opera, a renowned restaurant located in the heart of St-Tropez. This Michelin-starred establishment offers a blend of fine dining and theatrical performances, creating a truly unique ambiance. Indulge in expertly crafted dishes that showcase the flavors of the Mediterranean, accompanied by a carefully curated selection of wines. With its elegant décor and attentive service, L'Opera will transport you to a world of culinary delight.
2.2. Le Café de Paris: A Classic St-Tropez Institution
Le Café de Paris is a St-Tropez institution that has been welcoming locals and visitors since 1930. Located on the iconic Place des Lices, this brasserie offers classic French cuisine with a Mediterranean twist. Take a seat on the shaded terrace and watch the world go by as you enjoy freshly caught seafood, grilled meats, and refreshing cocktails. With its lively atmosphere and friendly service, Le Café de Paris is the perfect spot to soak up the vibrant energy of St-Tropez.
2.3. Beachfront Dining: Scenic Views and Fresh Seafood
When in St-Tropez, dining at a beachfront restaurant is a must. With its prime coastal location, the town offers a plethora of establishments that boast stunning sea views and the freshest seafood. Choose from an array of beach clubs, each offering its own unique atmosphere and culinary delights. Whether you prefer a laid-back beach shack or a glamorous seaside eatery, you'll be treated to a memorable dining experience against the backdrop of the azure Mediterranean Sea.
3. Shopping: Discover High-End Fashion and Local Artisans
St-Tropez is synonymous with luxury and fashion, making it a paradise for shopping enthusiasts. From high-end designer boutiques to local artisans showcasing their craftsmanship, you'll find a wide range of options to satisfy your retail cravings. Explore the glamorous streets of the town center, such as Rue Gambetta and Rue Allard, where you'll find renowned fashion houses and iconic brands. Don't miss the opportunity to visit the lively open-air market on Place des Lices, where you can browse for local products, handmade crafts, and fresh produce.
3.1. Rue Gambetta: Luxury Fashion and Designer Brands
Rue Gambetta is a shopper's paradise, lined with luxury fashion boutiques and designer brands. This bustling street attracts fashion enthusiasts from around the world, offering a wide range of choices for the discerning shopper. From international fashion houses to renowned French designers, you'll find everything from clothing and accessories to footwear and jewelry. Indulge in a shopping spree and discover the latest trends in haute couture, ensuring you leave St-Tropez with a stylish memento of your stay.
3.2. Place des Lices Market: Local Flair and Authentic Souvenirs
For a taste of local culture and a chance to buy unique souvenirs, a visit to the Place des Lices Market is a must. This bustling open-air market takes place every Tuesday and Saturday and offers a wide range of products. Browse through stalls selling fresh produce, artisanal products, handcrafted jewelry, and clothing. Immerse yourself in the vibrant atmosphere as you haggle with vendors and discover hidden gems that reflect the local flair and creativity of St-Tropez.
3.3. Local Artisans: Showcase of Craftsmanship and Tradition
St-Tropez is home to a thriving community of local artisans who showcase their craftsmanship throughout the town. From ceramics to textiles, leather goods to perfumes, you'll find a wealth of unique and beautifully crafted products that capture the essence of St-Tropez. Visit artisan workshops and boutiques, interact with the artisans themselves, and learn about the traditional techniques passed down through generations. Support local craftsmanship and take home a one-of-a-kind piece that embodies St-Tropez's artistic heritage.
In conclusion, when it comes to finding a good place to stay in St-Tropez, the options are as varied as the enchantments this destination has to offer. From opulent luxury hotels and charming boutique accommodations to beachfront resorts and private villa rentals, there is a perfect choice for every type of traveler. Whether you prefer to immerse yourself in the glamour of St-Tropez or seek a more authentic and personalized experience, this iconic French Riviera town promises a memorable stay. Explore the rich history, indulge in culinary delights, and discover the vibrant shopping scene to make the most of your time in St-Tropez.
Key Takeaways: What is a good place to stay in St-Tropez?
St-Tropez offers a range of luxurious hotels and resorts that are perfect for a memorable stay.
One option is Hotel Byblos, known for its elegant decor and lively atmosphere.
If you prefer a beachfront location, Hotel Les Palmiers is a great choice.
For a more intimate experience, consider Villa Marie, nestled in the hills with stunning views.
Le Yaca Hotel is known for its charming Provencal style and exceptional service.
Frequently Asked Questions
Welcome to St-Tropez! If you're looking for the perfect place to stay, we've got you covered. Check out these commonly asked questions about finding the best accommodations in town.
1. What are some recommended hotels in St-Tropez?
In St-Tropez, you'll find a diverse range of accommodation options to suit every taste and budget. Some highly recommended hotels include Hotel Byblos, Château de la Messardière, and Hotel Sezz. These establishments offer luxurious amenities, breathtaking views, and exceptional service that will make your stay unforgettable.
If you prefer a more boutique-style experience, consider Les Lauriers, a charming hotel with a relaxed atmosphere, or Pan Deï Palais, which combines traditional Provençal design with modern elegance. No matter which hotel you choose, you're sure to find comfort and hospitality in St-Tropez.
2. Are there any family-friendly accommodations in St-Tropez?
Absolutely! St-Tropez is not only a destination for the rich and famous but also welcomes families with open arms. Several hotels cater specifically to families, offering spacious rooms, kid-friendly amenities, and even childcare services.
Some of the top family-friendly accommodations include Hotel La Tartane Saint-Amour, Hotel Palm Garonne, and Hotel La Mandarine. These hotels provide a safe and welcoming environment for families to relax and enjoy their vacation in St-Tropez.
3. What are some budget-friendly accommodations in St-Tropez?
While St-Tropez is known for luxury, there are also options for travelers on a budget. Consider staying in one of the charming guesthouses or bed and breakfasts scattered throughout the town. These smaller establishments offer cozy and affordable accommodations without compromising on quality.
Some popular budget-friendly options in St-Tropez include Hotel Playa, Hotel Brin d'Azur, and Hotel Les Mûriers. These hotels provide comfortable rooms, friendly service, and a great value for your money, allowing you to enjoy all that St-Tropez has to offer without breaking the bank.
4. Are there any beachfront accommodations in St-Tropez?
St-Tropez is renowned for its beautiful beaches, and what better way to experience them than by staying in a beachfront hotel? Luckily, there are several accommodations that offer direct access to the sandy shores and stunning Mediterranean views.
Some notable beachfront hotels in St-Tropez include Villa Marie, Hotel B-Lodge, and Hotel Saint Amour – La Tartane. These establishments provide a luxurious coastal retreat, where you can enjoy the sun, sea, and the ultimate beachside relaxation.
5. Can I rent a villa or apartment in St-Tropez?
Absolutely! If you prefer a more independent and private stay, renting a villa or apartment in St-Tropez is a fantastic option. There are numerous rental agencies and online platforms that offer a wide range of villas and apartments to suit your preferences and budget.
Whether you're looking for a quaint villa nestled in the countryside or a modern apartment in the heart of town, you'll find plenty of options to choose from. Renting a villa or apartment gives you the freedom to create your own itinerary and enjoy the privacy and comfort of a home away from home in St-Tropez.
Best Luxury Hotels Saint Tropez, The French Riviera 2021
Summary
So, to wrap things up, when looking for a good place to stay in St-Tropez, there are a few key things to consider. Firstly, think about your budget and how much you're willing to spend on accommodation. Then, decide whether you prefer a hotel, a villa, or maybe even a campsite. Next, consider the location – do you want to be close to the beach or in the heart of town? Finally, read reviews, ask for recommendations, and do some research to make sure you choose a place that suits your needs and preferences. Happy travels!
In conclusion, finding the perfect place to stay in St-Tropez is all about personal preferences and budget. By considering factors like accommodation type, location, and reading reviews, you can make an informed decision. Don't forget to enjoy your time in this beautiful coastal town!